The online world is vast, so if you are running a business, then you need expert assistance to achieve higher results in the shortest possible time.
It is essential to make the right decision while hiring an agency to handle your business marketing needs. The market is full with a lot of digital marketing agencies and it might become difficult to choose the right agency for your brand.

So, determine what exactly you're looking for in an agency and set your goals to finalise an agency with industry experience.
Why to hire a digital marketing agency?
To create a brand is not an easy task and when it comes to boost a brand, then it gets more difficult for any business. 
Digital marketing is a 360 degree work which requires expertise in every aspect of online marketing, and some of them includes SEO (on-page & off-page activities), SMM (Social Media Management), Data Analytics, Pay-per-click (PPC), followed by strategy development, website design & website development, content creation, lead generation, email marketing, etc.
So, hiring a digital marketing agency is a good idea to bring measurable results while maintaining your focus on increasing the sales of your brand. Look for an agency which knows all the parameters of SEO, SMM, PPC which are explained below.
Google Adwords Interview Question & Answer
1. What is PPC marketing?
PPC or Pay-Per-Click marketing is a popular technique that most SEO experts use in their advertising campaigns. The advantage of PPC marketing is that advertisers only have to pay when some user clicks on their advertisements. In simpler terms, you will only have to pay every time an internet user clicks on your advertisements.
More people prefer this to traditional online advertising because they only have to invest when the advertisements are working. If none of the users are finding the ads, they won't have to pay anything, making it easier for advertisers to cut losses in case their strategy fails.
2. Explain how AdWords work?
Google launched its popular AdWorks machinery more than 15 years ago. Now, it is more popularly known as Google Ads because a lot of changes have been made.
Google Ads encompasses all the advertising capabilities that the company has to offer. The system works across various domains, from their very own Google.com to other platforms, partner sites, applications, and so on. The primary function of Google Ads is to help businesses connect with and directly contact millions of potential customers online.
Businesspeople can use Google Ads to market their products and services online. Google Ads works on the PPC (pay-per-click) model, where the advertisers have to pay whenever a user clicks on their advertisements. Advertisers choose a target keyword and then bid on it. They will also have to compete with other businesses for that specific keyword.
3. What is Ad Rank?
Ad Rank is also a subset of Google Ads. It determines the position of your paid advertisement on the page. When you use Google Ads, you will have to compete for a target keyword with other businesses.
The Ad Rank is determined by the advertiser's "maximum bid" or the maximum amount of money they pay for a specific keyword on every click. If your Ad Rank is 1, then your advertisement will be displayed as the top result on the Search Engine Results Page (SERP).
Thus, advertisers must bid for the right keywords lest they start losing money on a failed advertisement campaign.
4. Explain what is Google Quality Score?
You can think of Google's Quality Score as your Credit Score. The more you have, the better reliability you will enjoy.
Google determines the Quality Score by measuring the relevance of the relevance and the quality of an advertiser's keywords and paid advertisements. Google then uses the results of their Quality Scores to evaluate the cost-per-click (CPC) of different PPC advertisements. The procedure is that Google multiplies the Quality Score with an advertiser's maximum bid to determine the Ad Rank of a paid advertisement.
There are many factors that Google takes into account when measuring an advertiser's Quality Score:
       

The click-through rate (CTR) of the advertiser.

       

Keyword relevancy.

       

The quality, relevance, and SEO performance of the landing page.

       

The quality and relevance of the advertiser's ad text.

       

Previous records and performances with Google Ads.
5. What is the difference between CPM, CPC, and CPV bidding?
Different companies use different marketing strategies. To make sure that their investment is optimized, they can opt for three primary types of paid advertisements: CPM, CPC, and CPV.
CPM stands for Cost-Per-Mille. It is the most common method of paid advertisements. Here, advertisers will have to pay a defined sum for every thousand views or impressions of the advertisement. This type of bidding is best for companies that do not want any immediate action from the users.
CPC stands for Cost-Per-Click. Here, the advertisers pay a defined sum every time a user clicks or interacts with their advertisements. This type of bidding is great for businesses that rely on instant interaction and engagement.
CPV stands for Cost-Per-View. Here, the advertisers pay for every customer that watches their video advertisements through Google Ads.
6. What is Ad Rotation?
Ad Rotation is a setting of Google Ads which allows users to make optimum use of their varying advertisements. For instance, the Ad Rotation setting will allow advertisers to determine how often Google Ads should rotate between the different advertisements in their Ad Group.
With this setting, Google Ads can either take your instructions on how often they need to rotate between your different advertisements, or they can start rotating themselves based on the performances of different ads.
The Ad rotation setting is important because Google Ads can only display one advertisement at a time from your account. So if you have more than a single advertisement in your Ad Group, you'll have to determine the rotation settings.
7. What is the difference between clicks and impressions?
There are two primary types of paid advertisements. One is called PPC or pay-per-click, and the other is PPM or pay-per-mille.
In pay-per-click, the advertisers have to pay every time a user clicks on their advertisements. PPM, on the other hand, demands a fee for every 1000 "impressions" of the advertisement.
There is a huge, but the simple difference between a click and an impression. Whenever a user comes across an advertisement and sees it on any platform, it counts as an impression. The user does not need to do anything, they just need to see the ads for it to count as one impression.
Clicks, on the other hand, require engagement. Only when a user clicks on or interacts with the advertisement will it count as a click.
8. How many characters are allowed in AdWords ads?
Google Ads allows users to create up to three headlines, each with a description that can span about 90 characters.
So if you play your cards right, your Adwords Ads can have 270 characters across three descriptions. Each headline, on the other hand, can have 30 characters, giving you room to add 90 characters across the entire length of your advertisement.
Even though 270 characters sound like a lot, that is not the case. You have to make sure that you make every character count for maximum efficiency. For better results, it is recommended that you take help from professional agencies like Sapttech Labs.
9. What is an automated bidding strategy?
Ad bidding is a mind-play where smart investors need to make the right choices to get the best ROIs from their advertisements. Therefore, advertisers tend to create bidding strategies beforehand to optimize the performance of their campaigns.
One of the most fool-proof methods is to use the Automated Bidding Strategy. What it does is that it automatically starts bidding on your behalf. The strategy uses several metrics to determine the success probability of different advertisements in terms of clicks and conversions. Based on these estimates, the system drops a bid automatically.
There are different times of automated bidding strategies and each of them is designed to help companies and businesses achieve specific goals.
10. What is a phrase match?
Phrase match is a keyword setting that Google Ads offers to advertisers. The feature allows advertisers to designate a specific phrase that should be included in the searcher's request if they want to see the advertisers.
For example, if your designated keyword is "ice cream sticks" then your advertisement will appear before the searchers if they look for "blue ice cream sticks". However, the same advertisement will not appear before users who search for "sticks for ice cream" as the designated phrase is not matching with the search request.
The phrase match is a good setting for advertisers who want to target their audience to only the most relevant searchers who will go on to interact with their business.
11. What is frequency capping in AdWords?
Frequency Capping is a feature of Google AdWords that allows advertisers to limit the number of times the same users view your Display or Video advertisements. Advertisers can determine the maximum number of times that an ad from their Display or Video campaign will appear before the same user. The feature will work differently for the two sets of campaigns:
For Display campaigns, your frequency cap will determine the number of impressions and views for the same user during a specific period.
For video campaigns, you can set the number of impressions and/or views that a single user can have during a specific period – a day, a week, or a month.
12. Explain Google Click-to-Call.
Click-to-call is an extension of Google Ads which allows advertisers to connect with their potential clients. Using this extension, businesspeople can include a click-to-call button on the advertisements that they have put up through Google. When users click on that button, it'll call the business directly. The call will be made on mobile devices specified by the business. On mobile devices, these advertisements appear as a button that the users can tap. On tablets, PCs, and laptops, the number will be displayed next to the advertisement.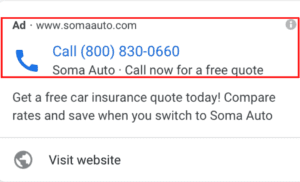 The click-to-call strategy is a great move when it comes to mobile marketing and other campaigns which require direct interaction between the company and its prospects.
13. What is IP address exclusion in Google AdWords?
IP address exclusion is another feature offered by Google Ads. It allows users to exclude certain IP addresses from viewing their ads, thereby directing unwanted clicks away from their advertisements.
The main purpose of IP address exclusion is to mark certain neighborhoods on the internet map on their blacklist. These marked neighborhoods will then not be able to view the advertisement.
The handy feature works especially well when the advertisement is displayed in the pay-per-click format and the advertisers have to get high returns on investment. In such cases, the companies need to narrow down their target audience to people who are most likely to engage with their businesses.
14. How to track conversion in Google AdWords?
Measuring the conversion rate of your advertisements is a great way to determine if you need a change of plans in your campaigns. Fortunately, Google AdWords allows you to track your conversions without any hassle.
All you need to do is follow these steps:
Sign in to your Google AdWords account.

Locate and click on the tools icon on the top right corner.

Click on "Conversions" which you will find under "Measurement".

Locate and click on "New Conversion Action".

Choose one of the 4 conversion tracking options – Website, App, Phone Calls, or Import.

Select the website.

Enter the domain of your website and then start scanning.
After this, you can track conversion in two ways. Firstly, you can set up conversions using a URCL, which will count page load as a conversion as well. Otherwise, you can set it up manually to customize the settings.
15. How can you use negative keywords?
Negative keywords allow advertisers to prevent Google Ads from displaying their advertisements to people searching for specific phrases.
For instance, if you choose "Tennis Shoes" as a negative keyword, then your advertisement won't be visible to any user who searches for Tennis Shoes online. You can use this excellent feature to narrow down your target audience and get quality clicks that are most likely to lead to conversions.
To use negative keywords, you need to:
Select

Keywords and Targeting

.

Go to Keywords, then Negative.

Click on

Add Negative Keyword

.

If Google asks, you will need to choose the destination for your specified negative keyword.

Insert the desired negative keyword in the edit panel.
Search Engine Optimization Interview Question & Answer
1. What is SEO? What are the important types of SEO methods?
SEO stands for Search Engine Optimization. It is a set of guidelines and practices that web developers use to increase the rankings of their web pages in organic search results.
Through SEO, website owners try to improve the overall appearance of their pages as well as their brand positioning. It is one of the best ways to build one's business without much investment. If you are skilled at enhancing your website's SEO performance, then you can drive sales and engagement without spending extra on marketing and advertising.
The major types of SEO methods are:
       

On-page SEO.

       

Off-page SEO.

       

Technical SEO.

       

Local SEO.

       

App Store Optimization.

       

YouTube SEO.
2. What are the SEO tools that you use?
Search Engine Optimization is a vast area of specialization. To master it completely, a marketer will need help from some tools to get everything done efficiently.
Here are some important SEO tools that can help you in this journey:
Ahrefs Keyword Tool: This particular SEO tool allows users to track and use all the hot keywords trending in their niche.

SEMRush: As one of the most popular SEO tools, SEMRush gives valuable insights that marketers can use to grow.

Answer the Public: This free SEO tool allows you to find trending blog topics to write about.

Majestic: This is one of the most versatile SEO tools that you can use for your marketing and advertising strategies.

Google Trends: An underrated tool, Google Trends allows users to keep track of all the trending keywords and topics across several industries.
3. What is the main purpose of using keywords in SEO?
With the SEO industry growing in size, many amateurs suggest that keywords are not as important now. The claim is utterly false. If anything, keywords are now more relevant than ever. An SEO keyword can either be a single word or a whole phrase.
SEO keywords are found within a web page's content. The main purpose of these keywords is to direct the relevant audience to their web page through organic searches. When the audience searches for something on their browser, they insert the relevant keywords. If the keywords are found on your website, then it will rank higher on SERP (Search Engine Results Page).
4. Explain Spiders, Robots, and Crawlers.
In essence, Spiders, Robots, and Crawlers are the same thing. They certainly serve the same purpose, so differentiating between them is of no use.
These are three of the most widely-used automated software programs that help search engines keep themselves up to date with the ever-changing web database and activities. Through these programs, search engines keep updating their database by indexing different information from hundreds of millions of web pages.
These programs "crawl" across all the websites to process and store information on different topics. It is up to these crawlers to provide relevant results to users searching for something in particular.
5. How many character limits are in the Meta description tag?
Technically speaking, you can make your Meta description as long as you want. But during the time of publishing, Google truncates whatever you insert down to 155-160 characters if the limit exceeds. As such, website developers tend to keep their Meta descriptions shorter than the limit that Google specifies.
The ideal range would be somewhere between 50 and 160 characters so that your Meta descriptions are visible to the audience.
Making sure that your entire Meta description is accessible to the reader is important. Nowadays, readers don't have the patience to read through the entire web page. So they try to see if they can get the available information through these descriptions.
6. What is Google Sandbox?
Google Sandbox isn't anything official. It is a well-studied estimate or observation that different marketers have made. According to the Sandbox Effect, all the new websites undergo a probation period before which they cannot rank high on SERP even if their SEO performance is top-notch.
Google uses this mechanism as it ranks its result based on authority. Older websites are considered to be more genuine and credible; as a result, they have higher authority.
So if you have just launched a website, and your traffic is significantly lower, it's not because you're doing something wrong. It might just be the period of slump when your website is put on probation by Google Sandbox.
7. What is Black Hat SEO?
Black Hat SEO techniques are a bunch of tricks that people can use to increase their rankings on the Search Engine Results Page (SERP). However, the term Black Hat specifies that these techniques are not legitimate, and Google disapproves of their use of them. Getting caught using these methods to increase your website's ranking could result in a permanent ban.
Nevertheless, these Black Hat SEO tricks are still popular because of how effective and explosive they are. Among the several techniques, some major ones are as follows:
       

Posting automated content.

       

Creating doorway pages.

       

Including hidden texts and links.

       

Keyword stuffing.

       

Negative SEO practices.

       

Spinning the Article.

       

Link Schemes.

       

Cloaking.
It is important to note that none of the credible websites use these methods. A reliable brand-building agency like Sapttech Labs would suggest that you use White Hat SEO techniques to turn your business around.
8. What are some famous Black Hat SEO techniques?
The difference between Black Hat and White Hat SEO techniques is that the former is banned by Google, while the latter is accepted as positive efforts to improve one's website.
Black Hat SEO techniques are, in simple terms, illegal. But they are nonetheless quite effective which is why so many people still use them to increase their website's rankings on the SERP. Here are some popular Black Hat SEO techniques:
       

Using automated content to create different web pages.

       

Including hidden texts and links for sneaky redirects.

       

Stuffing the web content with relevant keywords to get more direct searches.

       

Reporting the competitors for no reason.

       

Creating guest-posting networks to spam redirects.

       

Generating automated queries to Google.

       

Duplicating content across domains, subdomains, and web pages.
9. State the difference between 'nofollow' and 'dofollow' link.
There are two ways to insert a link to another website to your website. The first method is to create a dofollow link, while the other is to establish a nofollow link. They both serve the same purpose – that is, to establish a clear link between the two websites. However, the difference lies in the message they send to the Search Engine.
If you establish a dofollow link, your website's SEO performance will increase. This happens because you will essentially pass the authority of the origin site to the linked or the destination website. Doing so will increase the authority and credibility of the domain.
If you establish a nofollow backlink, then you won't pass the authority to the destination website. As a result, your site's SEO performance will remain unaffected.
10. Explain the term LSI.
LSI keywords have become a fundamental part of online marketing since 2015. The abbreviation stands for Latent Semantic Index(ing). LSI is a computer program that developers have created to recognize different synonyms of the main keyword.  
In basic SEO terms, LSI keywords are all the search terms that have some sort of relationship to the target keyword in your website. They help support your on-page SEO performance and allow your content to be more visible to the relevant searchers.
To give you an example, if you are running a winter clothing store, one of your keywords could be "jacket". So all the LSI keywords related to that would be "padded", "warm", "stuffed", and so on.
LSI keywords can create a huge difference in terms of page visibility. Businesses can partner with reliable marketers like Sapttech Labs to develop strong LSI techniques.
11. What is Robots.txt?
The very popular Robots.txt file is a set of instructions for Internet bots, primarily for web crawlers. You can imagine Robots.txt as a set of guidelines that you would usually read in a public place. Good patrols will take heed of the instructions, while the bad ones will simply ignore them. This is exactly what Robots.txt file does – it lays down some specific instructions for bots that are trying to access different websites. Good bots like web crawlers will follow the instructions, while the bad ones will ignore them.
The primary function of the Robots.txt file is to help web crawlers. These internet bots crawl all the web pages and index their content together for the search engines to display relevant results. Web crawlers used the instructions mentioned in the Robots.txt file to avoid overtaxing the web servers and ignoring the pages that aren't publically visible.
12. Which is the most important area to include your keywords?
Decorating your web content with keywords is the most basic SEO technique to help your website rank higher on the SERP. However, keyword stuffing is not an option, as it is not that effective and is also disapproved by Google.
So you have to use your keywords effectively. The most important areas where you need to include your keywords are as follows:
       

All web developers should try to include their most important keyword at the beginning of their title tag.

       

Include readable and concise keywords in your website URL.

       

Include one keyword in your H1 tag.

       

Many SEO experts recommend using only 2-3 on-page keywords in your content's body and around 5-6 on pages with more copy.

       

Developers should also try to include keywords in images and alt attributes.
It is recommended that you take personalized advice from reputed marketing agencies like Sapttech Labs if you are not so sure about this area.
13. Why is link building important for SEO?
Building quality networks of links for your website is one of the most important SEO techniques to rank higher on the SERP. But doing so with little or no amount of knowledge in this area could be dangerous. There are many Black SEO techniques for link-building which could result in sanctions by Google. So if you want to avoid risks, you can get assistance from professional agencies like Sapttech Labs.
Some of the popular, approved link-building techniques are:
       

Regulated guest posting on your website.

       

Promoting your content through social media platforms.

       

Creating and linking Infographics.

       

Leaving comments on authority blogs and blog posts.

       

Creating online relationships with different websites.

       

Creating networks through business listings and directories.
An extensive network of quality backlinks will enable your website to rank higher, have more credibility, enjoy more domain authority, and so on.
14. What tools have you used to track and analyze SEO data?
Search Engine Optimization is a vast subject. Nobody can determine the success of your strategies without proper tracking and analysis. Doing so manually is impossible. Experts instead rely on a vast multitude of SEO tools to track their marketing efforts.
There are free tools available but they are not as reliable. Some of the best SEO tools to track and analyze your efforts are as follows:
Moz Pro

CopyScape

Siteliner

Pro Rank Tracker

Crazy Egg

KeySearch

Google Analytics

GTMetrix
As you can imagine, there are a lot of SEO tools and each of them serves a different purpose. If you don't want to handle all the hassle, you should go for a marketing agency like Sapttech Labs that could track all your SEO efforts on your behalf.
15. What will be your approach if your SEO method doesn't work?
There will be many instances when your SEO methods and campaigns fail. The first step would be to diagnose the reason for their failure.
Before anything else, consider the age of your website. If you have only recently launched your website, then even the most elaborate SEO techniques are bound to fail due to the Sandbox Effect. So if you're a newbie, you'll have to be patient and confident in what you do.
If your website is not new, you can take help from SEO tracking tools to diagnose the potential reasons why your techniques aren't working.
If you cannot figure it out, then it is better that you don't waste your valuable time and resources. The best option, in this case, would be to partner with a marketing agency like Sapttech Labs. Their professionalism and experience can help you get the best Returns on Investments.
Social Media Optimization Interview Question & Answer
1. Which platform is better to target a specific audience?
Usually, social media platforms can help brands target specific communities. For instance, the majority of the younger audience nowadays use Instagram, making it one of the most important social media applications for marketing and advertising. Within these social media sites, you'll find specialized communities like gaming groups, skin-care enthusiasts, and so on. Social Media platforms also make it easier for the companies to locate such communities to their advantage.
With a little help from Google Analytics, a good marketing strategy, and a reliable brand-building agency like Sapttech Labs, companies can target virtually any kind of audience through these major social media platforms like Facebook, Instagram, and Snapchat.
2. How can I increase the post engagement on Facebook?
There are multiple ways to increase your engagement on Facebook. Before anything else, you should devise a careful schedule where you publish your content during perfect-post hours. During this period, most Facebook users are active and would gladly interact and engage with your posts. Fridays and Wednesdays are usually the most active days on Facebook globally, but the data can be different for your specific location.
Apart from that, marketers use these tips to maximize their engagement:
       

Keep the content short and crisp.

       

Publish interesting videos (Facebook algorithm favors video-format posts).

       

Post content related to your audience's interests.

       

Keep reviewing and tracking your most successful posts.
3. What is the difference between LinkedIn and Facebook?
Although both LinkedIn and Facebook are social media platforms, they serve very different purposes. Facebook is meant to provide a safe online space for different communities to get together and interact. People sign up on Facebook for different reasons, from finding new friends to keeping in touch with their acquaintances.
LinkedIn, on the other hand, caters to a very specific audience. It is a social media platform that connects business-minded people. It also creates a network of employees and employers who can benefit each other.
As far as marketing and advertising strategies are concerned, companies should use different approaches for both platforms.
4. How does Social Media helps in the SEO of a site?
Social Media Marketing is beneficial in many ways, but it also contributes to your website's Search Engine Optimization (SEO). However, marketers should note that social media cannot influence your SEO rankings directly.
You can use social media to your advantage in different ways. For instance, you can boost your website's post engagement by sharing it on one of your social media accounts. This will drive more audience to your site, positively influencing its SEO performance. Moreover, by linking your website with your social media accounts, you can create a good network of healthy backlinks that will eventually boost your website's SEO.
There are many ways to use social media to boost your company's SEO performance. A thorough marketing agency like Sapttech Labs could help you tap into that potential.
5. How can I increase the post reachability on Instagram?
Instagram is one of the biggest social media platforms right now. If your company can establish a good online presence on that application, your marketing strategy will be very successful.
Here's how you can maximize your posts' reach on Instagram:
       

Find out your optimal posting hours and publish your content during that period only.

       

Hire branding partners like Sapttech Labs to create short and entertaining Reels.

       

Post engaging stories like quizzes, choices, and so on.

       

Reply to all the DMs promptly.

       

Stream live content on Instagram.

       

Advertise your strongest and best posts to your preferred audience.

       

Prefer quality over quantity in terms of posts.
6. Which platform is better to target a specific audience?
Any social media platform would be great if you want to tap into some specific audiences. Instagram, for instance, is the best platform if you want to reach out to a young audience through short Reels, videos, and engaging content.
Facebook is the best platform if you want to reach out to a wider audience belonging to the millennial age group. Facebook gives a lot of scope to well-established and grass-root startups to build a solid customer base by reaching out to different communities.
LinkedIn, on the other hand, should be your primary choice if you want to target a business-oriented, motivated, and professional audience.
7. Name some of the social media networks.
Social media networks are key to building a strong marketing campaign. The majority of your potential customers are online, waiting to have their attention captured through one of your creative advertisements. Therefore, to get the best out of your campaigns, you should know all the major social media networks that you can use to strengthen your returns on investment.
Instagram – the most popular, trendy, and youth-oriented social media network.

Facebook – comprises different communities, from older clientele to younger audiences.

YouTube – the ever-green social media platform for video content.

Twitter – allows users to put forth their opinions and interact with celebrities.

TikTok – the upcoming popular social media platform for bite-sized content.

Pinterest – the social media platform for aesthetic-lovers.

Snapchat – the most convenient app to keep friendships going.
8. What is Facebook Edgerank?
Facebook EdgeRank is an alternative name for Facebook's older algorithm. It used to dictate how your company's page would present its posts and content to interested users and audiences.
Now, EdgeRank uses several new variables and conditions to determine post reach and engagement. As per the authorities and developers of Facebook, EdgeRank and other algorithms work together to allow different audiences to see only the content that would interest them.
The good thing about EdgeRank is that it allowed companies to shift their focus on posting good, engaging content to get organic reach instead of spending money blindly on advertisements. A good and experienced marketing company like Sapttech Labs can use EdgeRank and associated algorithms to maximize its Facebook reach.
9. How to increase blog traffic via social media optimization?
Your social media presence cannot directly influence the SEO rankings of your website blog. But you can link your social media accounts and your blog to create a good network that will indirectly boost your SEO performance as well.
First of all, you can share your blog posts on your social media platforms to get more engagement. As your social media followers start reading your blogs, your engagement will drive up, and so will your SEO rankings.
Apart from that, you should also link your social media platforms to your blog and vice-versa. This creates a network of high-quality backlinks that can potentially influence your website's SEO.
These are some of the basic tips that you can implement by yourself. For more comprehensive measures, you can partner with a branding agency like Sapttech Labs.
10. How to measure success on social media?
It is difficult to measure the success of your campaigns on social media. While you can project numbers and measure your satisfaction based on that, you can never be too sure about how well you are doing.
One way to get through this hurdle is to use analytics tools to keep a track of various metrics. Factors like post engagements, page reach, post interactions, click-per-post, and so on are fundamental pieces of information that can allow you to keep a track of your social media successes.
As a general rule, if these metrics indicate a steady, positive increase every month, then your social media campaigns are running successfully.